TRAVEL INFORMATION
CROATIA, OPATIJA AND HOW TO GET THERE
Croatia
is a well known tourist country with extraordinary natural beauties. The Adriatic coast is a thousand miles long and surrounded by many beautiful islands.
Opatija
is one of the most known tourist places on the coast, with 160 year of tradition in tourism (at the end of the
19th century Opatija was vacation resort of Austrian and other European emperors families). Opatija is a modern tourist resort with a long tradition, well known also as a place of many national and international scientific and cultural meetings.
Opatija, a former small fishermen village with a Benedictine Abbey, mentioned as early as 1449, started its tourist history in 1844, when a rich patrician from Rijeka, Iginio Scarpa, built his summer villa and named it after his wife "Villa Angiolina". Their friends started a new fashion, and very soon European royal families and men of distinction spent their winter- rest in Opatija which became a serious rival to Nice, San Remo, Marienbad, Baden Baden etc. in the 19th century.
Beautiful unspoiled surroundings with subtropical vegetation growing freely in the parks such as camellias, bamboos, magnolias, bananas and different palm trees, together with laurel and chestnut groves - this is Opatija today.
In over 20 hotels Opatija offers accommodation with 6000 beds and 15 meeting halls of different size with a total of 2.300 seats.
Fully, some of this history has given you a taste of the reasons why celebrities such as Kaiser Wilheim II, A.P. Chekhov, Isidora Duncan, other royalty and common people have chosen Opatija as their place of holiday and relaxation for over 160 years.

Today the city of Opatija has ample hotel and private apartments accommodation available.

AIR, BUS AND TRAIN CONNECTIONS
Opatija is well situated between several international airports (
Zagreb - 180 km, Rijeka-Krk - 44 km, Pula - 75 km, Trieste, Italy - 105 km, Ljubljana, Slovenia - 110 km) close to a railway stations (Rijeka -12 km and Opatija-Matulji - 5 km that are connected with
local bus lines
) and has good bus connections to the neighbouring cities and countries. Due to highway network Opatija can be easily reached
by car
from
most Mid-European regions in 5 to 7 hours.
VISAS


For citizens of most countries
a valid passport is sufficient to enter Croatia. Unfortunately citizens of some countries need visa when coming to Croatia. All participants are advised to check visa requirements on
Croatian Ministry of Foreign Affairs website
or to contact their nearest Croatian Embassy or Diplomatic Mission or travel agent. No visas are issued on arrival. The same problem is important for participants travelling through other countries, since the Embassy or Diplomatic Mission of respective countries must be consulted.
The Organising Committee (OC) will issue invitation letters on request for visa applications. Please apply in due time for a visa whenever necessary. Those who need a personal invitation to attend the conference should check the relevant box in their Registration Form.
CONGRESS CENTER
The meeting will take place at the Congress Center of the "Adriatic" Hotel which have great experience in the organization of international congresses. The main congress hall can accommodate 550 persons. In the "Adriatic", there are additional lecture rooms for 35 to 120 participants, enabling the organization of parallel sessions.
Congress Center is located in the Grand Hotel Adriatic which is one of Opatija's finest modern hotels. It guarantees pleasant accommodation, a rich gastronomic offering, excellent entertainment, shopping and many other amenities. And accompanied by its high quality service, the Grand Hotel Adriatic is the perfect venue for all types of conventions. It is located in the center of Opatija and easily accessible by both public and private transport. It has extensive parking facilities.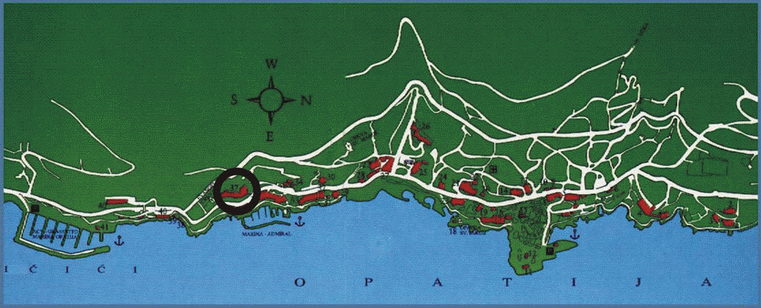 It is very difficult to predict weather especially for this time of year. Usually it is still warm (even for swimming during conference breaks) with daily temperatures above 20°C, and relatively chilly evenings. We can not promise that as unpleasant surprises are always possible. You can obtain seven day forecast here or just check the following maps.
| | | |
| --- | --- | --- |
| today's situation | forecast for tomorrow | forecast for day after tomorrow |
| | | |
The official currency in Croatia is Kuna. You can get an idea about exchange rate on Croatian National Bank web site. Credit cards (Mastercard, Visa, American Express etc.) are accepted by almost all hotels and shops. There are numerous ATM machines (also in the Grand Hotel Adriatic).